Planning Bio:
About us...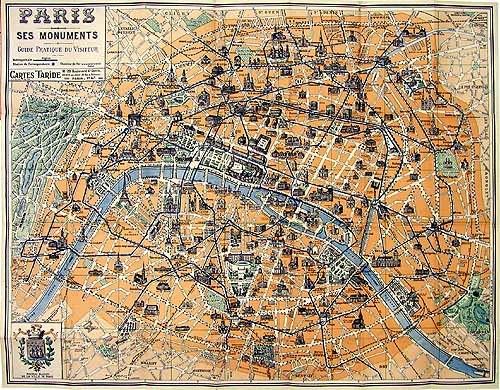 We're living a Parisian adventure this year and getting married at the Crosley Museum in Sarasota, Florida.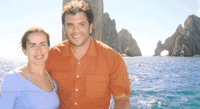 Here we are on a boat near the Cabo Arch, in Cabo San Lucas, Mexico.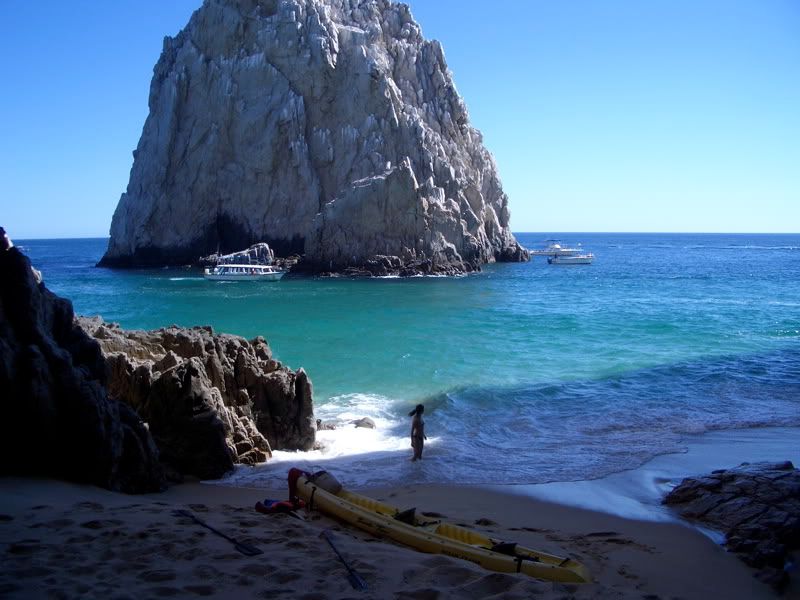 Proposal Site: The Cabo Arch
Our passion is travel, so it will be the theme for some aspects of our wedding...
We stopped in Iceland on the way to Paris. Iceland is like another planet...geysers and volcanoes everywhere!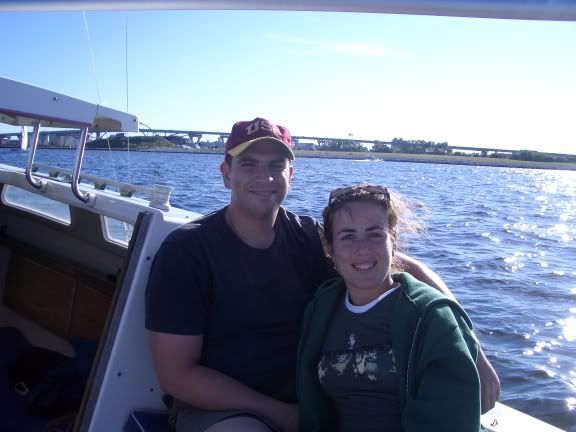 Sailing on my parents' boat on Lake Michigan.
About the wedding...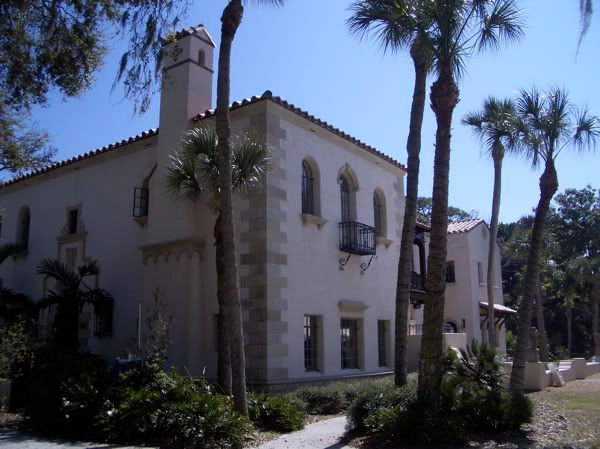 We're getting married at the beautiful Crosley, which Seth found online after we searched and searched for a venue that said "Historic Florida."
I almost got choked up when I first saw it...it took my breath away.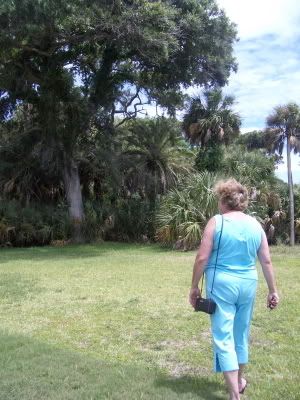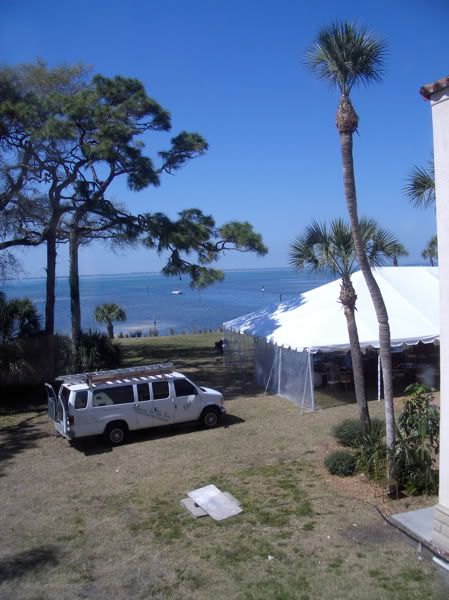 We are going to have the ceremony outdoors, with the water as our backdrop and thick greenery to the side.
That's my mom in the blue! Please disregard the tent and van, which were there for a different wedding.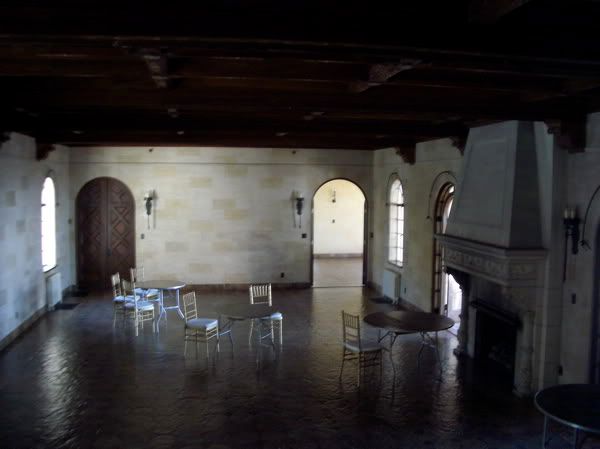 The Great Room inside. If we have over 80 guests, we are going to use the dining room for seating as well, which you can see through the far archway.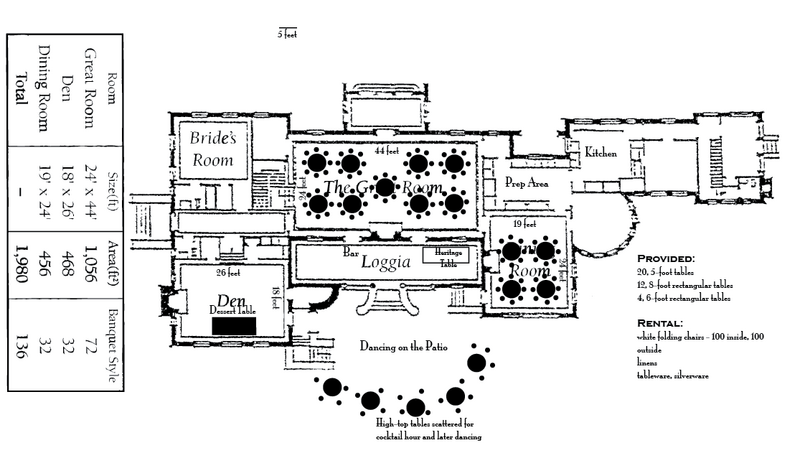 Floor Plan, possible seating arrangement for 104 guests.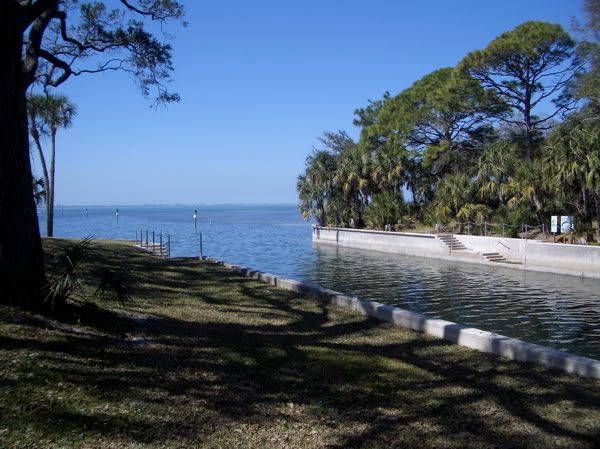 Water Access on the north side of the Crosley.
My family loves the water so we're renting a motor boat for the wedding so that can be our "getaway" at the end of the reception...Seth and his friends will take it out fishing earlier in the week, and I'm hoping to have some sort of wine cruise or something with my bridesmaids and girlfriends. We're lucky to have a charter captain in the family - my Uncle Chuck!!!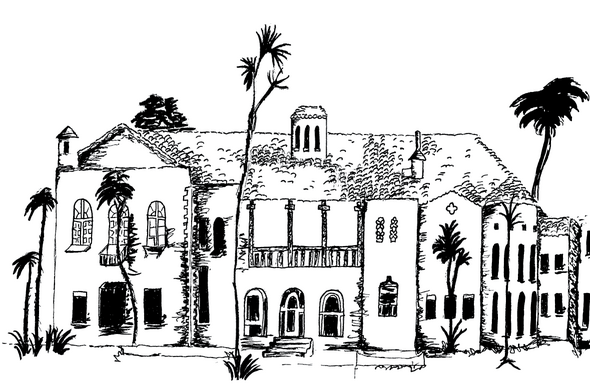 This is a drawing Seth's mom did for the directions card (see below for the back of the card).
The Look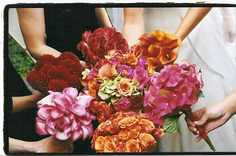 These are our colors. This picture is from Knottie soon2bagrobaski's wedding.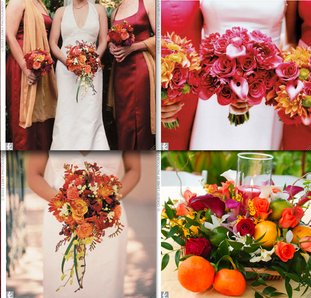 More color and flower ideas from various weddings featured in theknot's slideshows...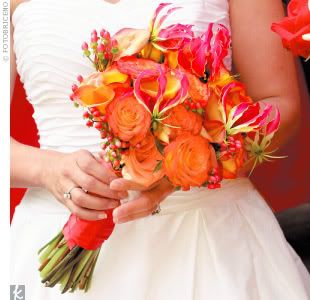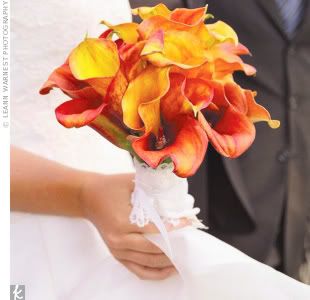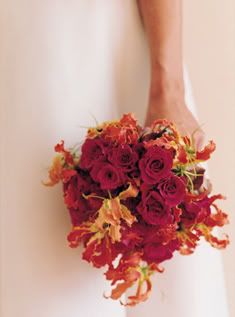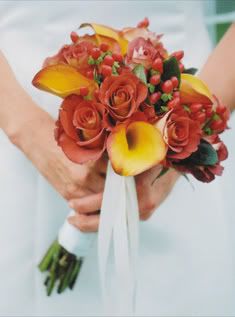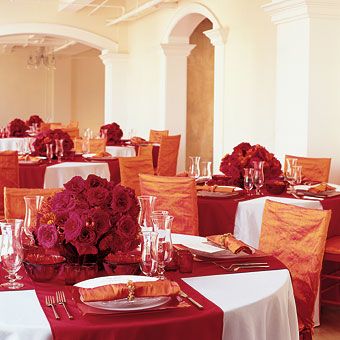 ...and fromBrides.com

My latest DIY project: painted French yogurt jars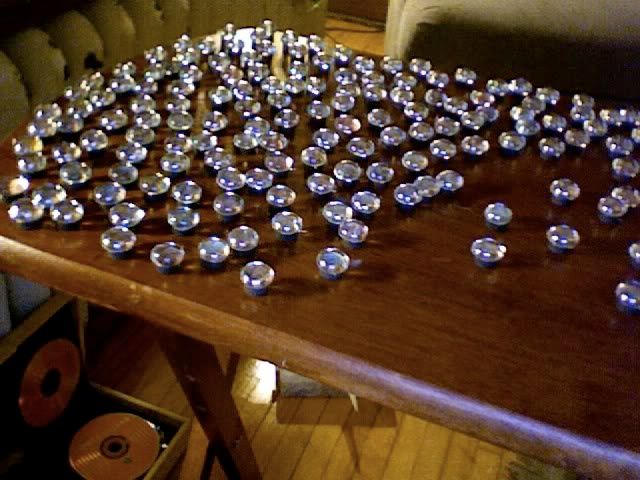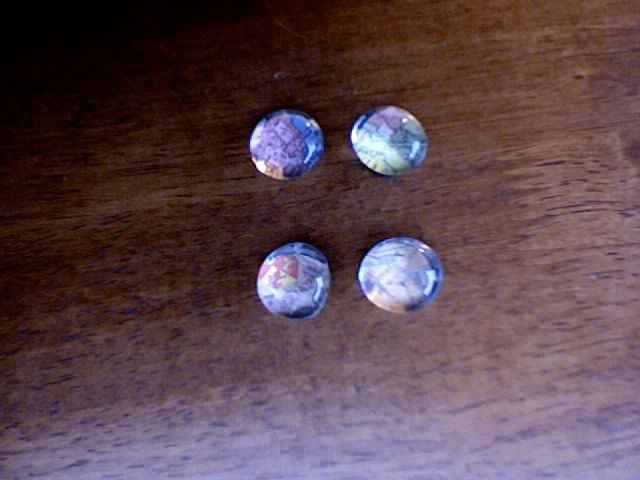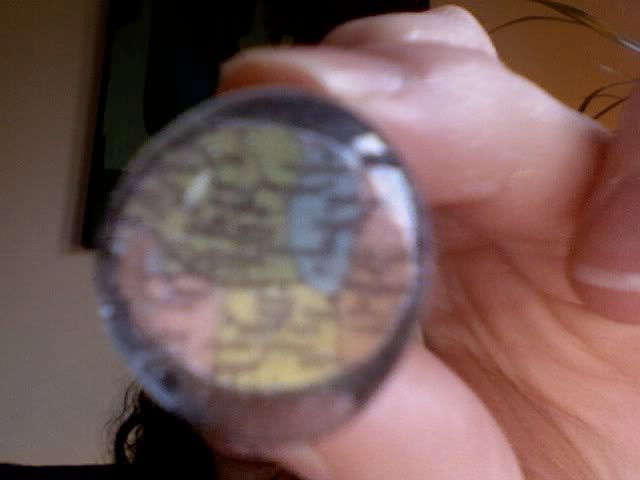 Monica, my sister, has been making our magnet favors. They are magnified pieces of vintage maps and are so adorable! We're putting them in take-out boxes, along with custom fortune cookies with travel quotes on them. More pics to come...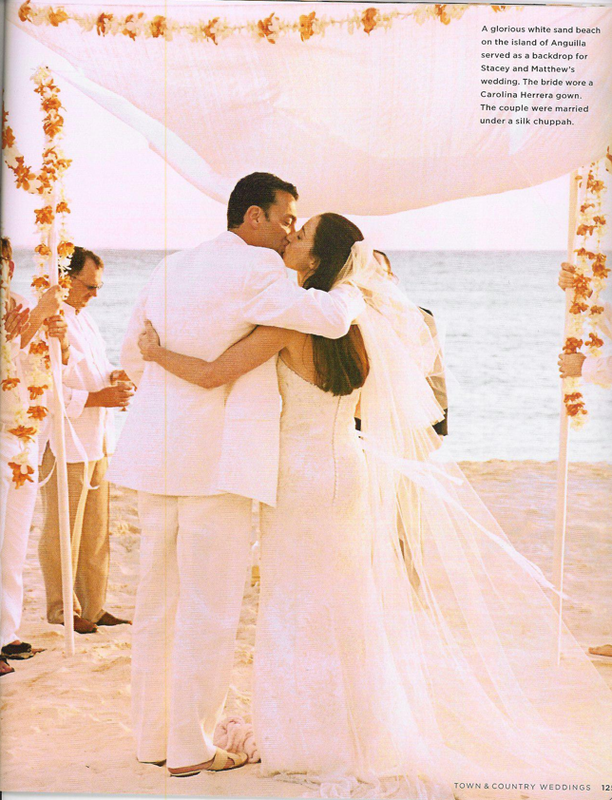 Chuppah inspiration from Town & Country Weddings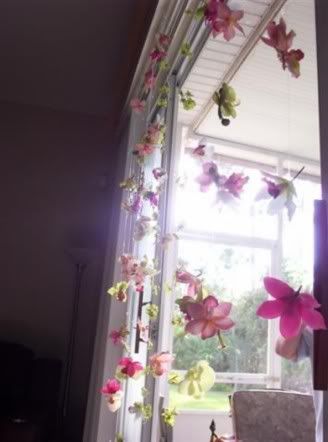 Jessiturs' famous hanging orchids, which I get to borrow!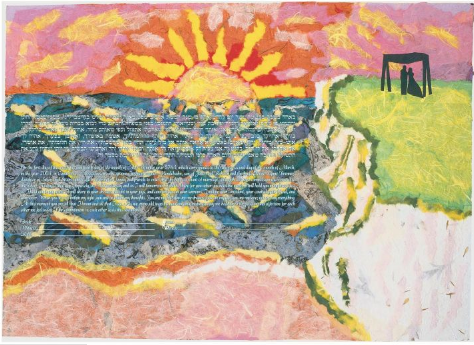 Our Ketubah (wedding contract), which has a "humanistic" text instead of the traditional one.
We ordered the ketubah from www.mpartworks.com. Enormous artistic selection, fast service and they're located in Florida, if you want to pick it up yourself!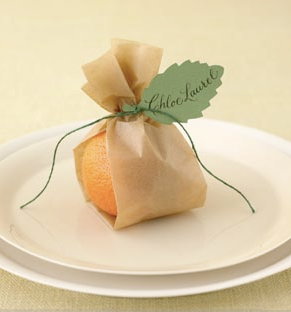 Clementine Place Card, from Martha Stewart Weddings. December is prime citrus season - yum! We're going to incorporate citrus fruits into the centerpieces in some way...Maybe have bowls of citrus fruits, and then have bags and citrus peelers as favors so that guests may take them home...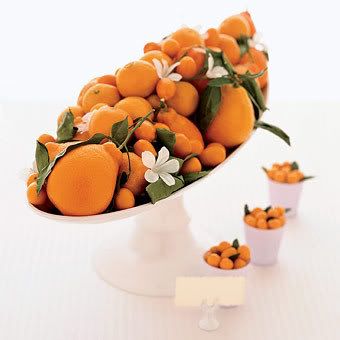 Oranges can be fancy!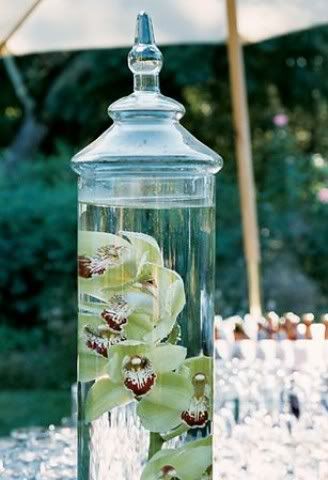 I love this orchid idea from brides.com.


Orchids in such stunning colors. These photos are from orchids.com.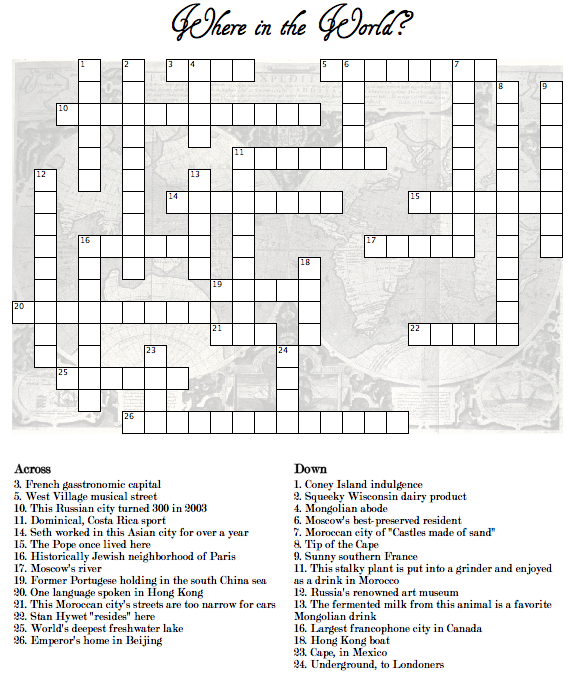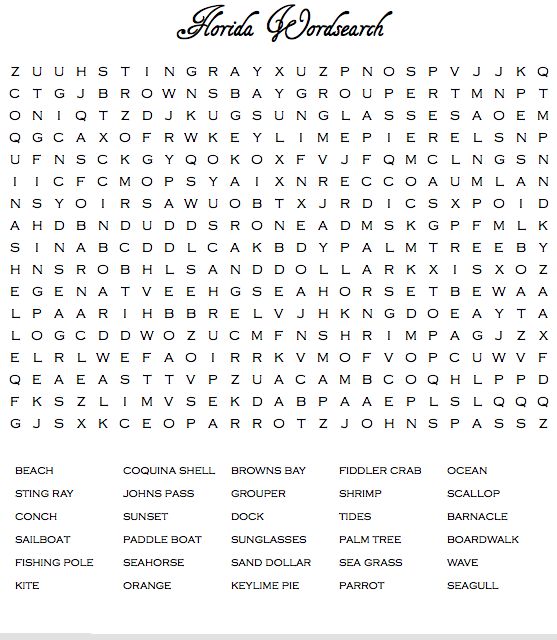 Fun stuff: wedding crossword and wordsearch. Make your own using a program called Crossword Forge.
Treats
*The* cake topper!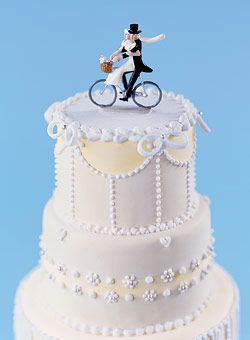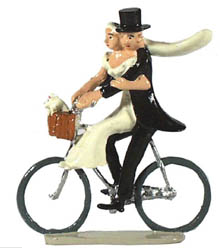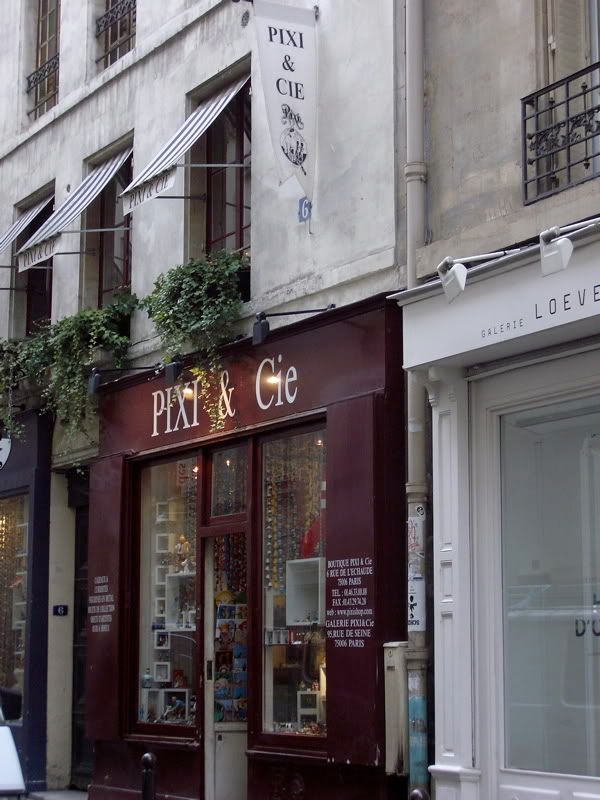 I got it from Pixie et Compagnie in Paris. They have a website, so you can order online if, like me, you must have it. It is actually quite small (about 2 inches) but weighs a ton. They're all hand-painted. I watched the guy in action. Very cool.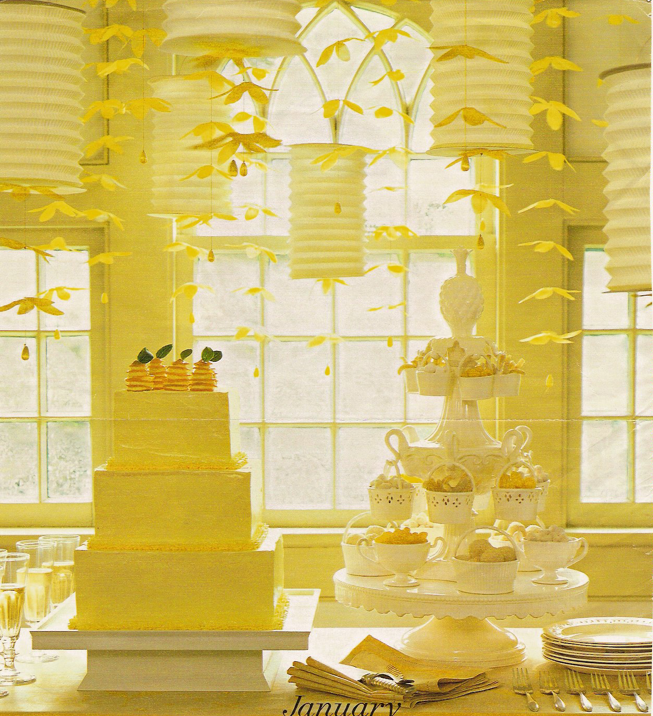 Dessert Room Idea. Isn't this romantic? We think the Crosley's "den" room will be the dessert room, which will work with this set-up.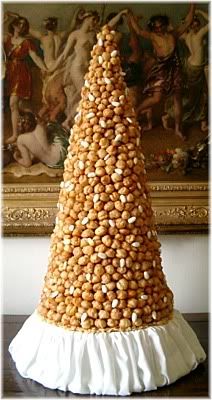 Croquembouche, the European wedding cake.
Ours will also have chocolate glazed over the puffs. It's something Harry's Kitchens can do for big parties - and it's fun to eat!
We're also going to have my mom's carrot cake cupcakes (my favorite).
Wedding Garb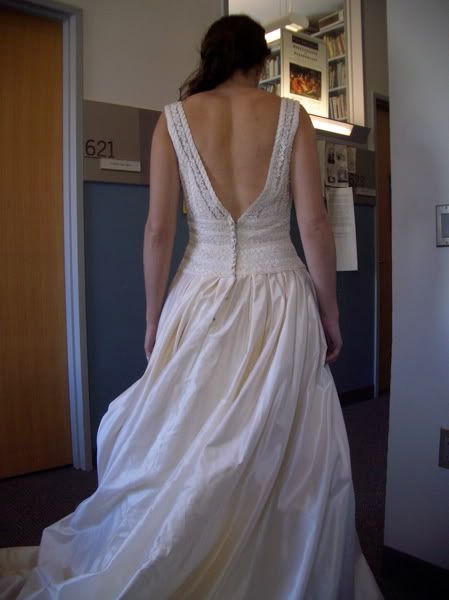 My dress! The back is my favorite part. I was modeling it in the French department with a bunch of grad students....I bought it just before I had to run to a meeting...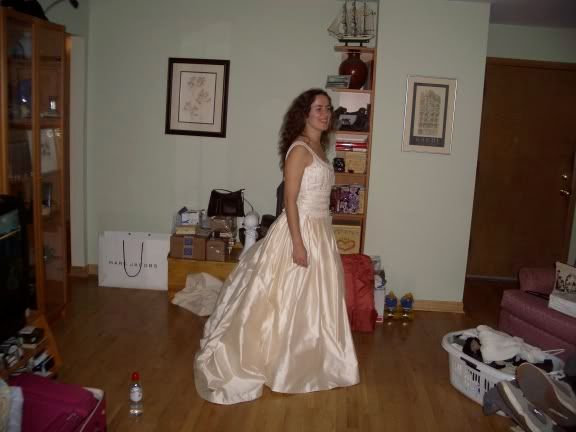 A shot from the side amidst my sister's moving mess. Can't I take a picture of myself in someplace *normal*?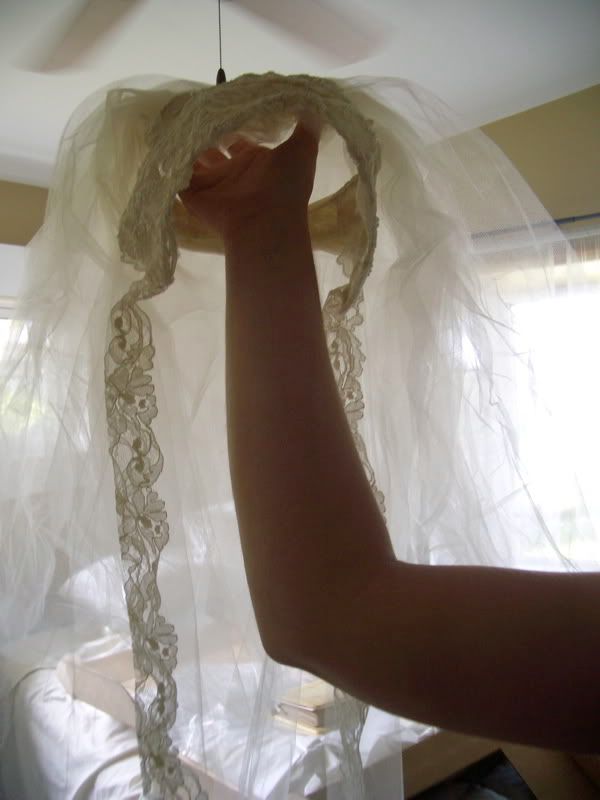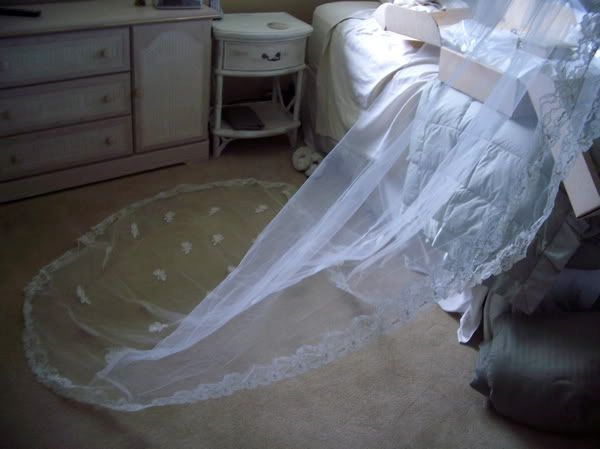 This is the antique veil I am borrowing from my mom's oldest friend (not that she's old!). I will probably wear only the long, lacy one, and not the poofy shorter one.
I don't usually like too much lace, but I feel like this veil is simple and timeless, like the dress. Not the bad 80s connotation of poofy lacy madness from head to toe.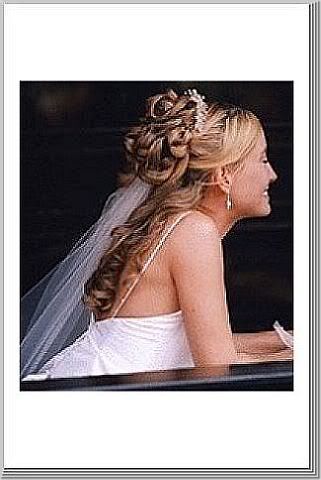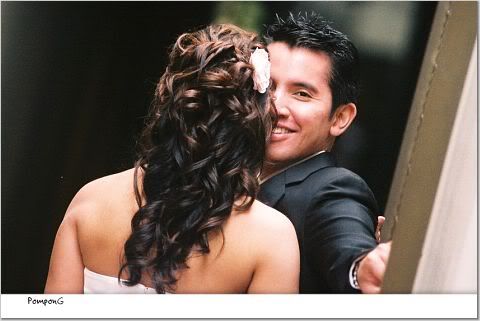 Hair ideas...obviously...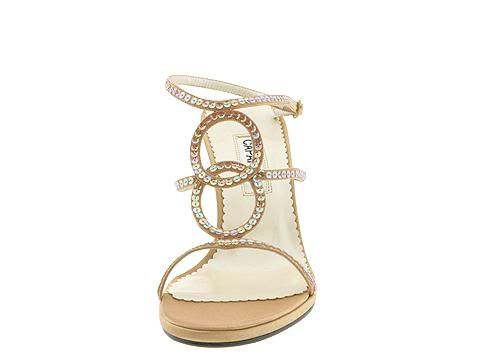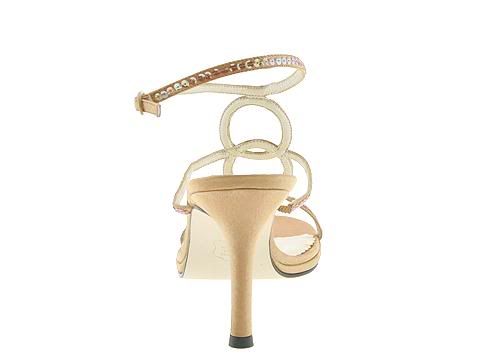 Shoes: Caparros style "Gala" Very sexy and modern under my somewhat traditional ball-gown style dress. Look at the symbolism! Two rings!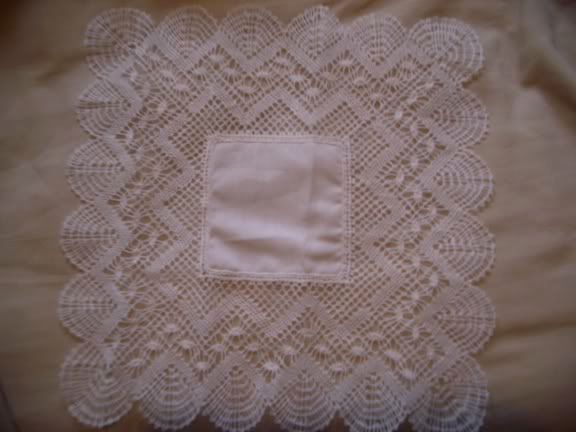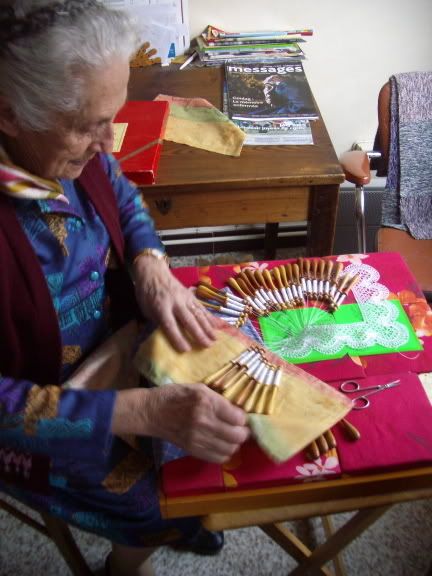 I am planning on using this lace in some way (bouquet wrap? ring pillow?). The wonderful French woman who made it was a close friend of my French host grandmother, Mamie, who passed away last year.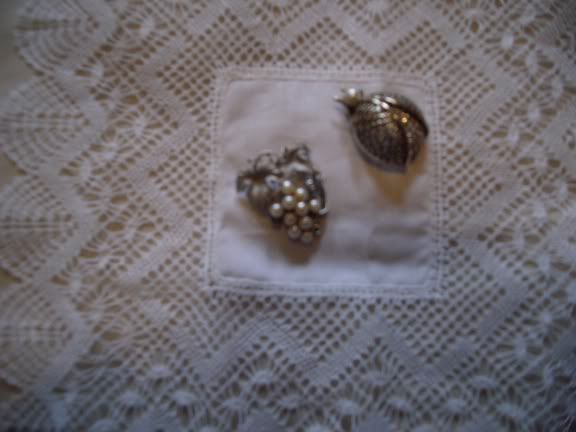 Sentimental Brooches: The grape bunch pin belonged to Seth's grandmother. The little bug is my mom's.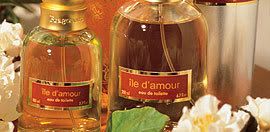 I'll be wearing Ile d'amour perfume by Fragonard Paris. This is a picture of the eau de toilette version. Smells delicious!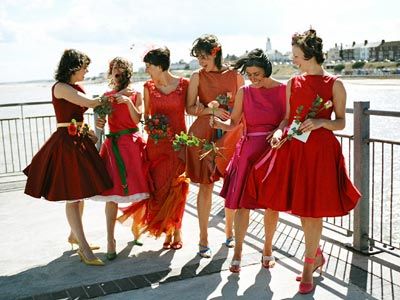 Bridesmaids' attire inspiration - I just love the look bridesmaids in different colors. We are using this same warm palette.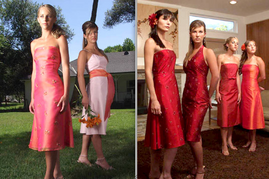 Lynn Lugo Bridesmaids' Dresses.
Lynn Lugo is based in Northern California, but you may order her dresses through several formalwear and bridal shops throughout the country. They will ship right to your bridesmaids, which is great for a wedding like ours, where my maids are scattered from California to Ohio.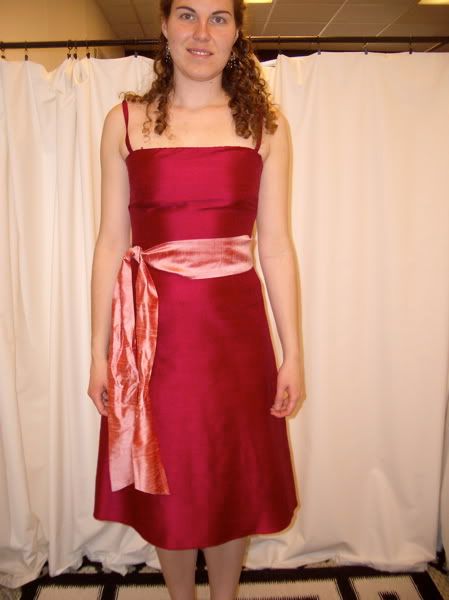 My sister, Monica, trying on one of the bridesmaid dress options.
We ordered the dresses through Premiere Couture in Madison, Wisconsin. They are WONDERFUL to work with!!! If you are interested in Lynn Lugo dresses, order early, since her dresses are often back-ordered, especially for summer weddings (ours came in about 4-6 weeks, however, without a glitch).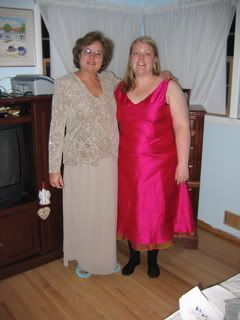 My cute mom with my maid of honor. How can I politely let them know I'd rather they *not* wear black socks and slippers to the wedding?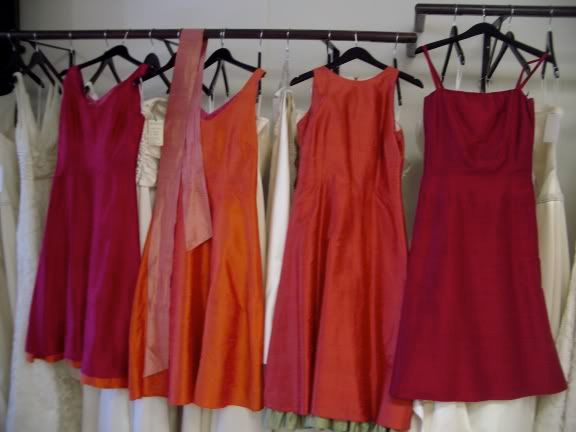 Some of the bridesmaids will also have sashes that tie it all together. We love color!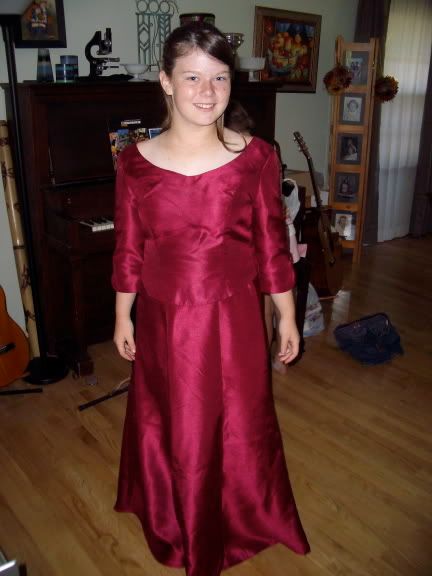 My cousin Anna will be a junior bridesmaid. This dress is the same material as the bridesmaids' dresses. It is being hemmed to tea-length and she will have a sash in rose petal.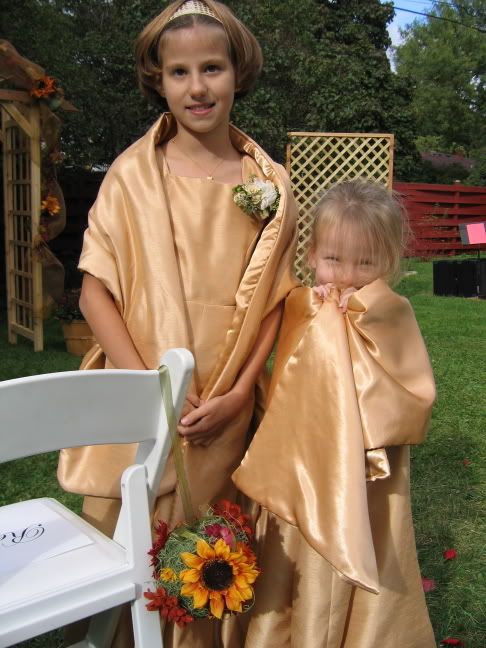 Here are my cousins and flower girls Kristen and Michelle. They wore their dresses to my sister's wedding last October. My uncle and mom spent WEEKS sewing them, so they are very special. They will each have a sash from Lynn Lugo.
Bridesmaids' Gifts: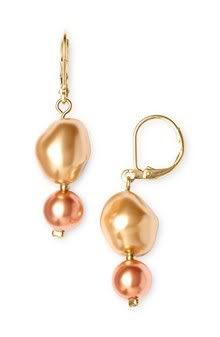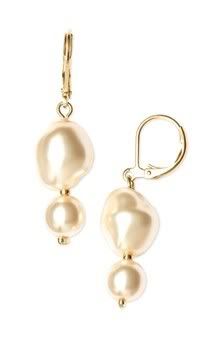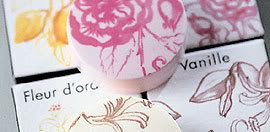 Pearl earrings in white or pink, depending on dress color (thanks for the idea, RedPoppies!), solid perfume from Fragonard Paris...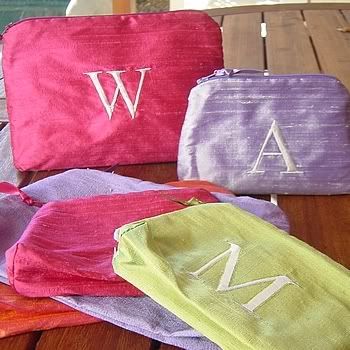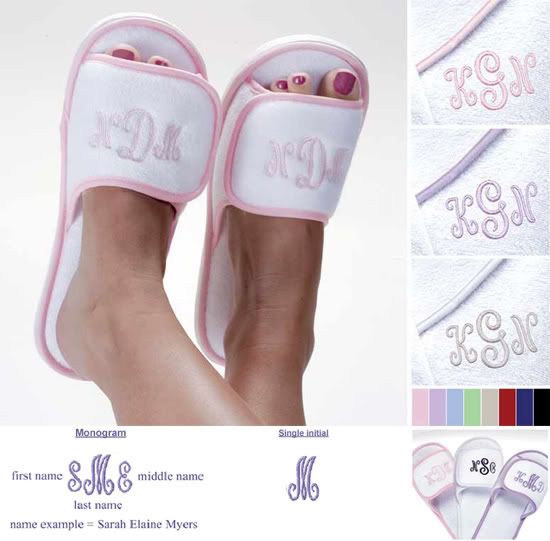 ...in raw-silk cosmetics bags, accompanied by monogrammed spa slippers. Too cute, I had to get some for myself too!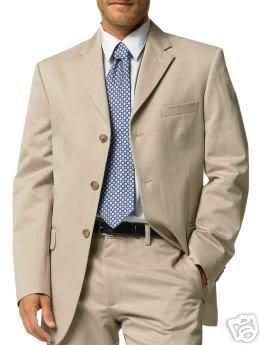 The groomsmen will be wearing linen/cotton twill suits from Banana Republic.
They may get creative with ties, possibly from Ted Baker London (my fiancé is only brand-obsessed with Ted) - that's all for Seth and the guys to figure out!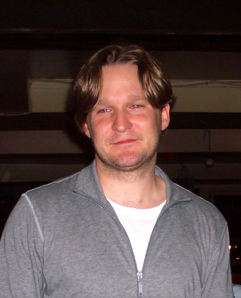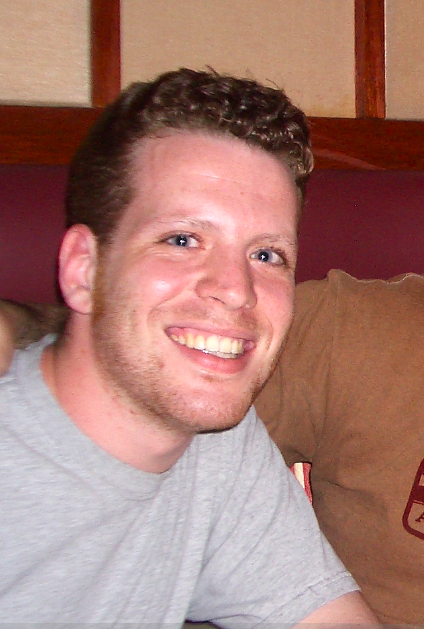 Rob is a groomsman, and Seth's brother Jared is the best man. I can't find pictures of the rest...more to come!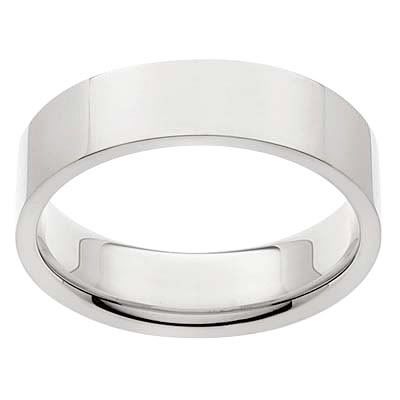 Seth's ring, engraved "Where you go I will go" (from Ruth 1:16 and the perfect sentiment for us)
Paperie
If you would like me to e-mail any of my files to you, or if you need advice making any of these things yourself, let me know.
Most were designed in Adobe Illustrator, which is my new favorite design program. I can send the files to you in pdf format, however.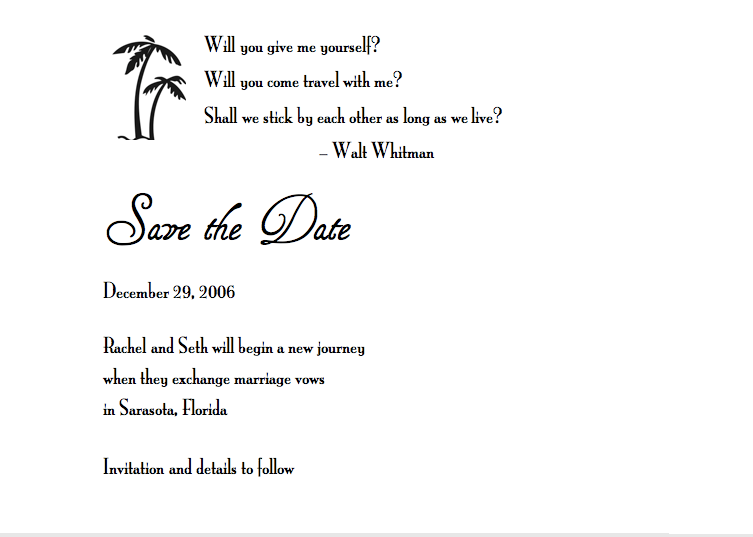 All of our guests except for a handful are from out of town, and our wedding takes place during the busy winter holidays, so I sent out Save-the-Dates in May.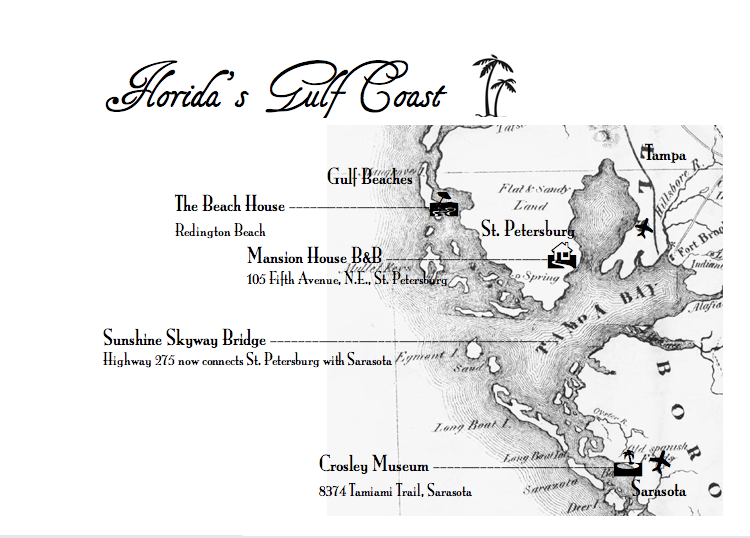 Map of the Area - Since we're having the rehersal dinner at our family house in Redington Beach, we thought we'd explain all the hotel options and where exactly everything is, from Sarasota to Redington Beach. You can see we are all over the place.
This map is only to give an idea, so we used one from the 1500s, to go with our vintage travel theme.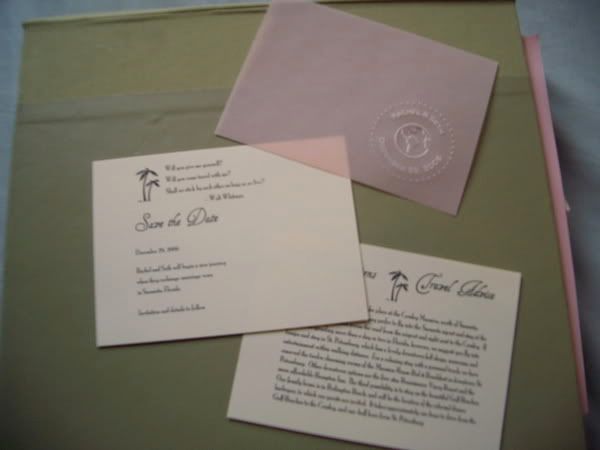 This is what they look like through a blurry lense of a photographer that still hasn't read her camera's manuel.




We ordered an embosser with these two plates from Wilshire Graphics. Check them out at www.wgpress.com. We used them on the save-the-dates, and I'm making our own custom thank-you notes, stationary, and cocktail napkins with them.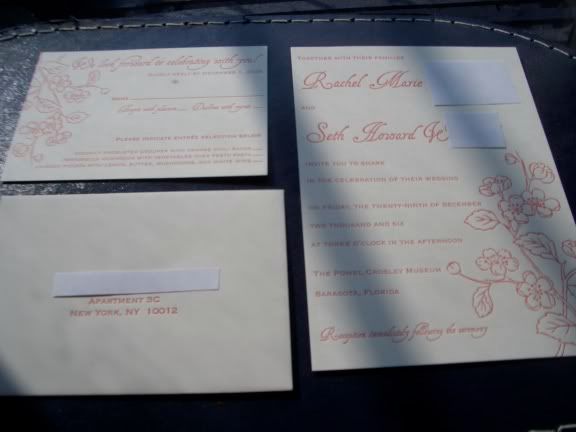 Invitations! I love letterpress.
I designed them myself with Adobe Illustrator and then had them printed. I cannot say enough about how wonderful Wildflower Letterpress is. They are a Chicago-based mom-and-pop printing business that was AMAZING to work with. We did everything by correspondance. They printed my designs exactly as I wanted, in the exact color, and the whole process from start to finish (including shipping paper and ink samples) took about a month! (and for much less cash than elsewhere...) www.wildflowerlp.com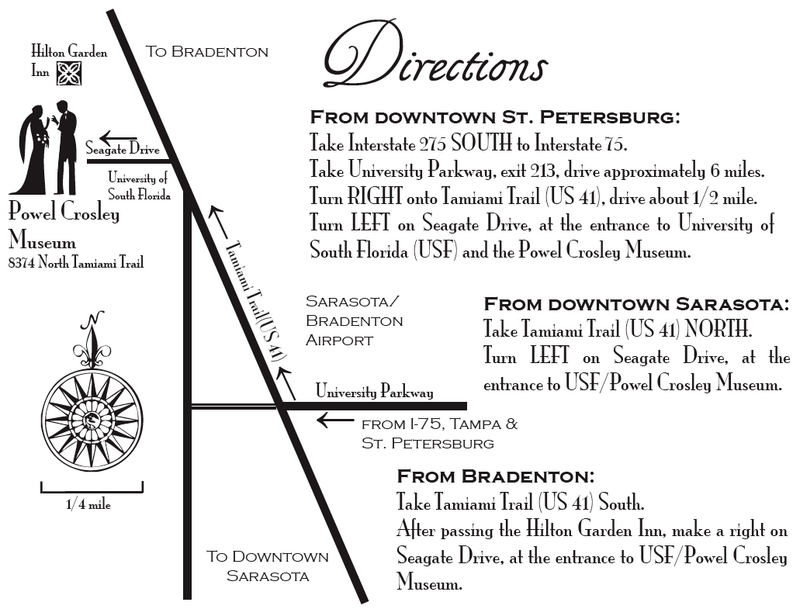 The Directions Card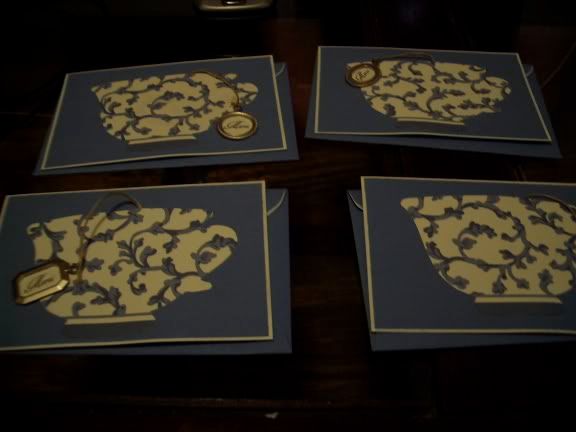 Thank-you notes I made for the shower gifts. The bridal shower had a wonderful teacup theme.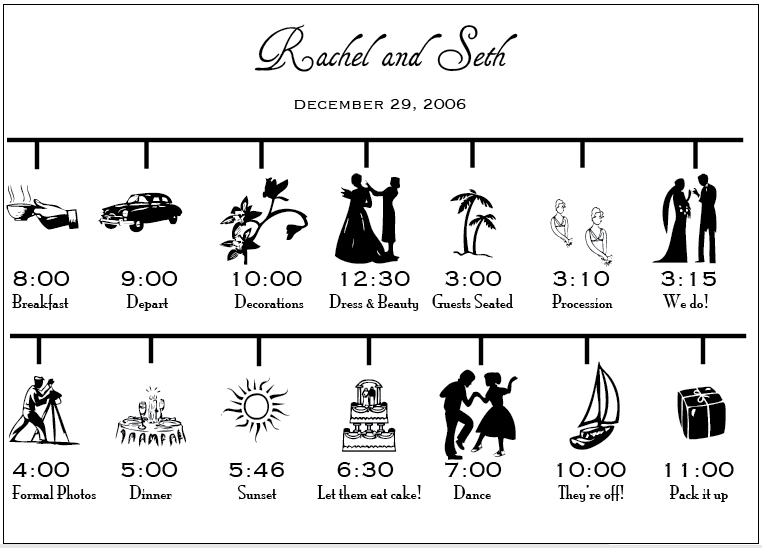 My DIY Wedding-day schedule. I think the idea is fun but don't know if I actually need to print these. May need some adjusting!
My version of a St. Pete-area travel guide, complete with our family's favorite places to visit and eat. These are only screen-capture pictures, so you can see some editing marks. They are printed brochure-style and in greyscale and on heavy, ivory paper. I *promise* you can actually read the text without a magnifying glass!


"Post Card" place cards that double as menus.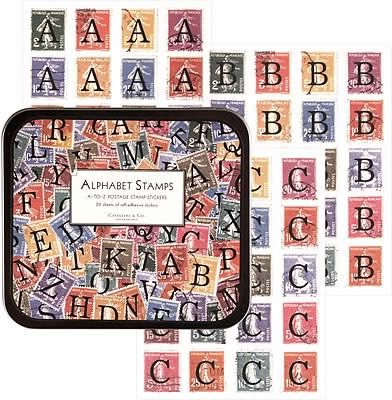 The stamp on each card will have the letter of the guest's last name on it, on a reproduction of a a French stamp. They'll be "cancelled" with our round embosser plate (the onewith the date, above).
Miscellania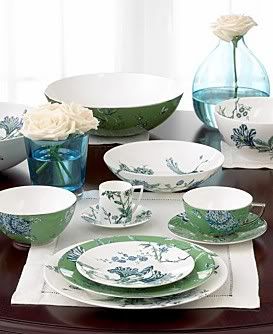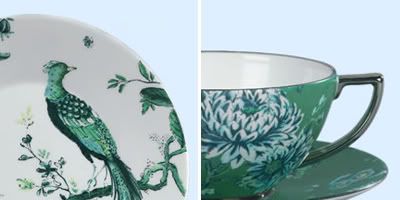 China: "Chinoiserie" by Jasper Conran for Wedgwood



Ah, The Onion. Such a wonderful news source.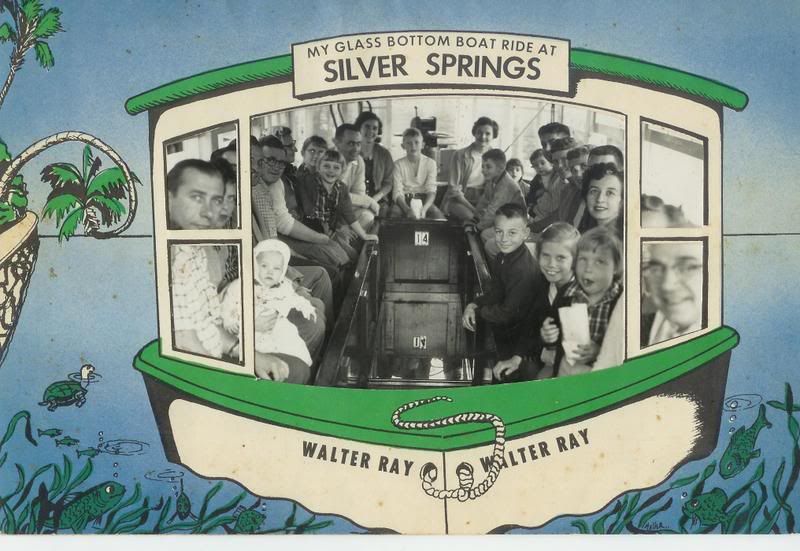 Way back in and on the right are my grandparents, mom, aunt, and uncle (as kids) in Florida in the 50s .

Shower Pictures!!!

On August 5, my best friend and maid of honor, Grace, hosted the most amazing shower!!! She made a trivia quiz, we ate a delicious cake decorated with real tea cups and flowers, laughed till we cried, and then ***bedazzled*** everything we could get our hands on. The boys crashed the party after a few hours and even Seth got into the bedazzling a bit...
It was a day I'll never forget, and here are a few of the pictures: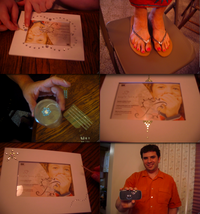 My youngest sister Laura.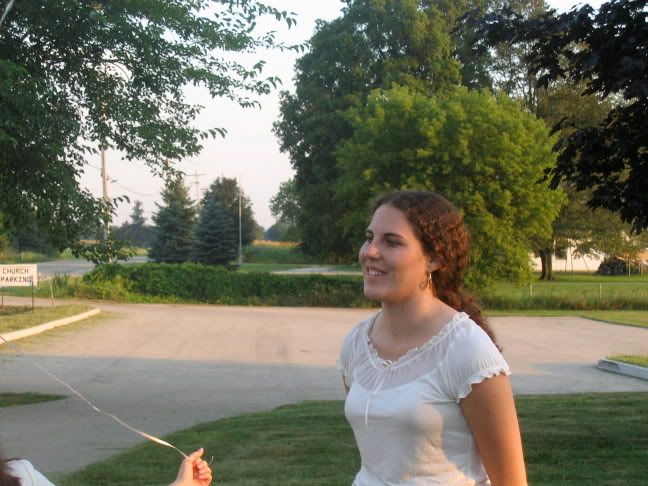 My other "little" sister, Monica.




Since I collect tea cups (did I mention I'm an old lady reincarnate?), she arranged for each of the wonderful women in my life to give me a teacup that would remind me of them. They came from California, Paris, Japan, Georgia, Korea...some new, some very old family heirlooms from both my and Seth's side...and they all mean so much to me!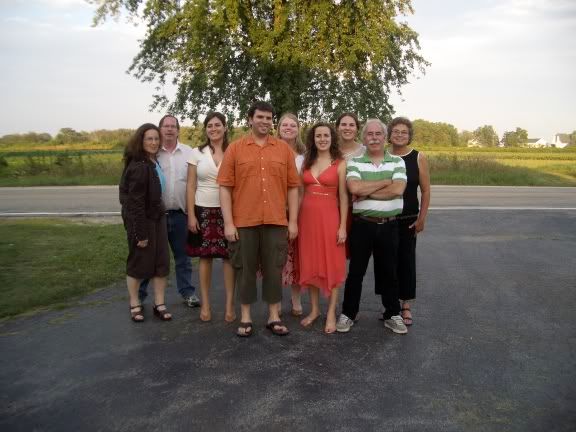 "There are places I'll remember...All my life though some have changed..." My visited countries map:


create your own visited countries map

Honeymoon destination: TBA! We are probably going to Turkey in the spring.